(posted date: 2015/12/01)
NGFX has gone through a lot of changes in the past month... Let's recap the previous versions before diving into this one.
v0.1510x Beta 1
This is the one I wrote about before.
v0.1510x Beta 2
Shift+Page Up/Page Down (jump a whole page)
Ctrl+F4 (closing the current active child window)
Auto-load/save NGFX.INI (language, view, grid color, window, last opened files)
Cancel *.Cx & *.SPR loading
Ctrl+color selection area opens Palette Editor
visual accelerator underlines in menus
some typos fixed.
v0.1510x Beta 3
pixel-cursor added (only visible when in zoom 4:1 and above)
removed some zoom-level
skip sprite-loading also with ESC
v0.151111 Beta 4
Portuguese language hardcoded into binary
added options for flexible multiple language files (spanish & french google-translations included, just copy/rename 'template.txt' to add more languages)
fixed most pixel cursors-bugs
added 'save' function (overwrite active file without prompting)
resize MDI windows when using zoom
reduced flickering when changing offsets
added new option to see color-numbers (useful when working with gradients)
added 16x zoom to fix, sys & logo
About box has an image now.
NGFX v0.151125 beta 5
And now, the latest version. This version represents the biggest leap in terms of changes and new features. The interface itself hasn't changed much, but a lot of things under the hood have.
some speedups
statusbar of sys-window now shows 'active palete: ##' instead of 'offset: 0'
pixel cursor & tile number only visible when zoom 4+
added 'cut canvas'
changed keyboard shortcuts for cut/copy/paste canvas
new image-import (png, bmp, jpg, gif)
added 'undo' (no redo yet); covers set pixel, fill tile, cut/copy/paste canvas, load/edit palette, offset- & sizechange, import image
The most welcoming features are undo (even without redo) and the importing of other image types.
The main interface is the same as ever. I've enabled the "Show Colornumber" option in the below screenshot, which gives you a palette index for each color.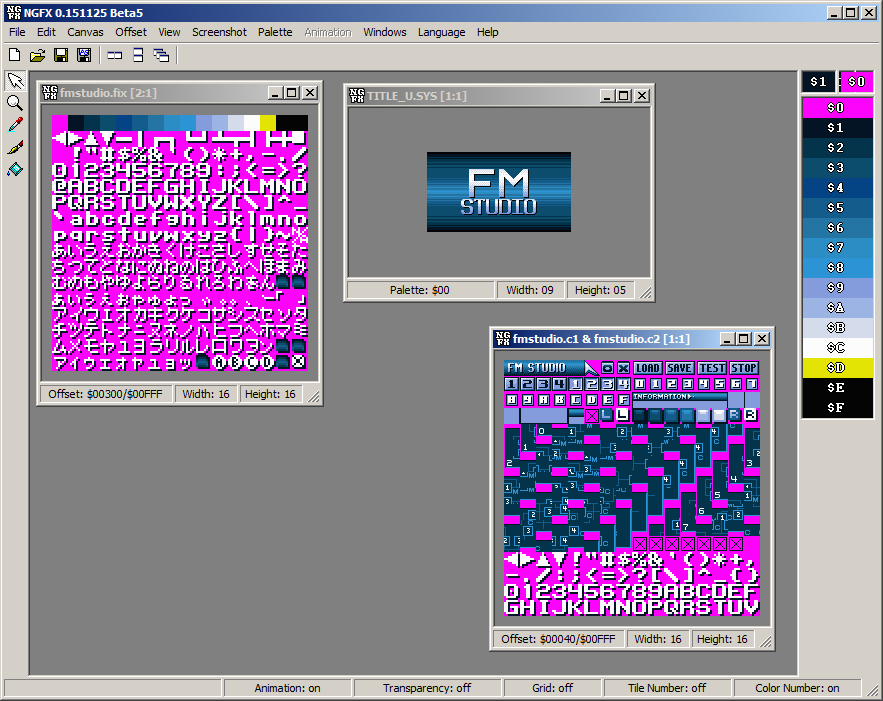 After a polishing period and some testing, blastar is looking to release this in December. Let's hope everything goes to plan. :)